CONCERT – Crystal Bowls in the Woods – 22/06/2013

Summer Solstice marks the longest day of the year. A time through the ages marked for celebration and intention. An honouring of the light and our connection to the sun, earth and stars.
Our ancestors in ancient times built huge bonfires on this day to celebrate their tangible connection to the vital power of the immense burning star that keeps our planet bright, warm and alive. It's a good time to remember that we, like the sun, contain the power to nurture and sustain, and that we have a responsibility to burn as brightly as we can.…"
This summer solstice we will be offering a very intentional sound journey with crystal bowls, gongs, flutes and harmonic voices to commemorate the energy of solstice. Come and connect with your own voice and its healing nature through tones, sounds and vibration.
Jeremy Sills and Naomi Athena will be offering this under "Raven and the Light Tree". Raven is the name of our now 2 year old son, and light tree or tree of light is the totem of the tribe we work with in Peru that heals through the ancient songs or Ikaros.
We will also (fingers crossed) have our new album ready!
https://www.facebook.com/events/654338187913585/
Sacred Fire will be burning through the evening to share food, Songs and Stories. And We'll end the evening in a journey through Dance. As Music will go on through the night.
Feel free to come a little earlier, jump in the lake and settle in.
Time:
7:00 Crystal Bowl Concert
8:30 – Fire Ritual, and Traditional Songs by Community Drum group
9:30—- Dance Party Celebration- DJ and Live Music
Cost 15$-20 Sliding Scale Donation
Please bring Food and snacks to Share.
Bring Songs or Stories or Poems to speak and sing.
An instrument and some warm clothes for the night.
LOCATION:
The Barn is located at 186 Route Principale Est, La Pêche (Sainte-Cécile-de-Masham), QC J0X 2W0.
Detailed driving instructions:
From Ottawa, take Quebec Highway #5 North. Follow this 4-lane highway until it ends at a 'T-intersection'.
At the T-intersection, turn left on Highway 105.
Proceed on Highway 105 past the Charles IGA; at the Wakefield traffic circle, continue north on Highway 105.
Turn first left on Higway 366 West/Ouest, signed "La Pêche".
Proceed about 4.6 km on 366 West/Ouest, past the "Alimentation Pilon" store
Once you have passed "Alimentation Pilon" watch for the road to start dropping down a hill. At this point, slow down, immediately put on your left signal and turn into the first driveway on the left. There is a green municipal marker numbered 192 and a yellow box marked "186″, with a green mailbox next to it. If you go around a bend to the left at the bottom of the hill, you have gone too far.
When entering the driveway, go past the first white house on the right. Continue up the driveway and you will come up to The Barn and a parking area.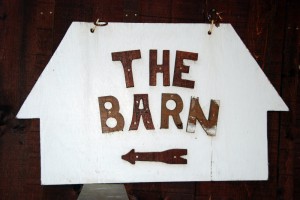 Approximate driving times to The Barn:
| | |
| --- | --- |
| Wakefield, QC | 10 minutes |
| Ottawa airport | 45 minutes |
| Byward market | 30 minutes |
| Montreal | 2.5 hours |
| Toronto | 5 hours |